Team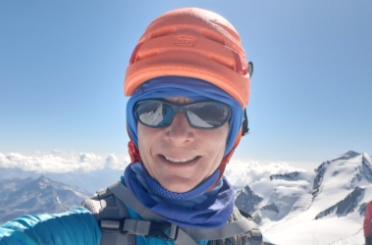 Heidi Bühler Coach, CEO, Mountain Hiking-Guide, Instructeur de cours.


Through constant, targeted training, i have climbed the highest mountains in Switzerland. I have basic experience with guests and participants in tours and courses. The training, courses and tours offered are self-planned and hiked on my own feet so that i know the requirements from my own experience. All offers are planned and carried out by me personally. You too are very welcome. All offers are designed for adults.
Professional training always up to date with the latest knowledge. I am a hiking- and snowshoe guide certifie, trained in avalanche rescue SMT-SBV winter 3 certifie, work on hanging rope level1 SBV certifie, Partamedic 3 IAS, endurance sports coach for mountain sports certificate, outdoor-instructor, skiing- and cross country ski-instructor, avalanche specialiste. FFA CF-AT FSEA. My company has the necessairy permits and liability insurance to carry out the offers professionally.
My passion: With mountain guide or solo
-Dufourspitze 4634m
-Dom 4545m
-Matterhorn 4478m
-Mönch 4158m
-Jungfrau 4158m
-Eiger 3967m
-Alphubel 4206m
-Corno nero 4321m
-Ludwigshöhe 4341m
-Vincentpyramide 4215m
-Balmenhorn 4167m
-Strahlhorn 4190m
-Breithorn 4164m
-Breithorn Mittelgipfel 4159m
-Pollux 4092m
-Granparadiso 4061m
-Lagginhorn 4010 5x
-Weissmies 4017m
-Allalinhorn 4027
-Wildstrubel, Wildhorn, Steghorn, Schwarzhorn, Wissstätthorn, etc.. on snowshoes
-Diverse 2000-3000m mountains in the Bernese Oberland and Vallais on snowshoes and so on...
Copyright: Heidi Bühler und weblica Data protect: DSGOV
Photo credit: Heidi Bühler